Mini SEO Workshop:
On-Page SEO with Alison K
 $100+hst | Wednesday, February 24 | 1-2:30pm Atlantic | 8 seats

Ever wish there was an SEO specialist sitting right next to you while you wrote your content?
Someone guiding you on how to write compelling headings?
Someone to tell you "Don't bother with that, do this instead!"
A helpful hand to help you finally (FINALLY!) feel confident that the killer blog post you worked on has the best chances of getting picked up by search engines?
Let Alison K show you how to edit your existing content to make search engines gobble it up… and demand more!
What will we do in 1.5 hours?
Laugh and sigh with delight. Seriously. On-page SEO is all about formatting your content in a way that search engines understand. It's a great start for anyone interested in SEO but has felt a bit… overwhelmed by it all in the past.
We're limited to 8 participants so that everyone gets to have their content reviewed by Alison K, with the input of others. What we'll cover:
The #1 thing content creators need to remember about writing for SEO
URLs, titles, meta descriptions
Headings
Images & media
Compelling content
Design and user experience considerations
Links, links, links (links!)
All your on-page SEO questions. Yes, even that silly one.
Get on-page SEO right the first time
This workshop is a direct response to Alison watching client after client pour time and effort into writing content for their website. But due to intimidation, lack of time, or other valid reasons, never getting around to the dreaded 'SEO-ing'. What happens? Their amazing content doesn't draw the attention of those important search bots they heard so much about.
"It's not you, it's us!" the search bots cry. "We just… we just have to understand things in a certain way. We're not human like you. Talk to Alison K. She understands us!"
Poor little search bots. *hands tissue*
No more pining for organic traffic! It's time to be proactive in a fun, jargon-free environment where the goal is for you to walk away feeling like you can -finally- SEO the heck out of your content.
This workshop is perfect for…
Bloggers and website owners who already have existing content published. As well a copywriters wanting to hone their SEO skills.
You don't need to be a technical whiz in the slightest. As long as you're comfortable editing the content of your site, you'll do great!
You must also be comfortable having your content reviewed by Alison K and the other 7 participants in the spirit of self-improvement.
What this workshop won't cover
It will not teach you how to do keyword research, how to perform an SEO audit or troubleshoot your website. We only got an hour and a half!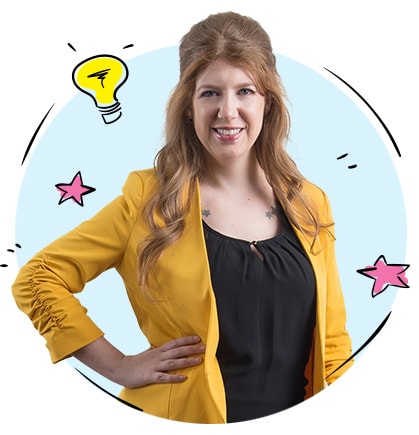 Who the heck is Alison K, and why is she handing out tissues to search bots?
Known as everyone's favourite hyperactive nerd, Alison K (Knott) is a Halifax-based web consultant, instructor, and international public speaker. Since 2012, she's been raising web literacy for small business owners and nonprofits on stages across Canada and the UK.
Now she's bringing her high-octane blend of fun and functional training to your Zoom screen.
SEO is her specialty, but it comes dovetailed along with her experience in sales, marketing, data, design and code.
Is she a "unicorn"? Nah. Alison K is a sorceress that rides unicorns. Heavy metal plays in the background while she levels up your SEO game.
If this all sounds silly… but you're actually kinda excited… this is -exactly- the workshop you need to be in.
Testimonials
"Member satisfaction and engagement is everything for us. The avalanche of ❤️heart❤️ and 🤯exploding head🤯 emojis in the chat during Alison K's workshop says it all. She shares our passion for raising nonprofit's web skills. Her energy and expertise were just what we needed to kick off a new year of sessions! "
- Elijah van der Giessen, co-host of NetSquared Vancouver
"We've had Alison K deliver webinars for both our own members and programming partners across the province. Her blend of humour, expertise and genuine enthusiasm really resonates with audiences. We highly recommend Alison K!"
- Digital Nova Scotia
"I guess she knows her stuff because she's always at her computer and never shares her Doritos with me."
- PeeWee, Alison's pet parrot and booking agent
The Feb. 24 session is now full. Want to be on the wait list to find out about the next session?