Live SEO Workshops
Fun, interactive sessions that break down the most important aspects of SEO to attract your dream clients and customers!
Engaging sessions in a fun, jargon-free environment
SEO has become more complex and competitive. But it is also very rewarding and effective if handled in bite-sized chunks. When you break it down into specific tasks, suddenly you have organic traffic back in your control.
That's why these workshops have been developed: to give website owners the tools and tactics they need, without all the jargon and unrealistic expectations.
What makes these different from other SEO training?
They are live. No canned, on-demand presentations (yawn). It's you and Alison K in real time.
They are intimate. Purposely limited to 8 people per session because you need dedicated time to focus on your particular needs. Plus, you get 7 other people who can offer you additional insight.
They are useful. Designed to be engaging and focused on specific SEO topics, you'll leave knowing exactly what needs to be done. And how. And with confidence.
Heard lots of great things about SEO, but don't know where to start? This is workshop is the perfect primer! Take this session if...

You want to optimize your existing pages and posts. In a way that's easy to manage and understand.
You would rather have someone help you with this in real time instead of watching another webinar.
You have burning questions about SEO you want to ask while your site is right in front of you.

Already optimized your content but haven't seen any traction? You need this workshop if…
You're already familiar with the basics of SEO and want to start ranking.
You want a strategy you can implement the moment you're done the workshop. Rinse and repeat for all your future content, too!
You want to outgrow just being a 'local' brand. Bring on the brand awareness, baby!
What other attendees say about these workshops:
"Got a lot out of today's SEO workshop. It was an effective use because I walked away with a few concrete steps I can easily take myself to improve my website's visibility on Google."
- Dianna Rievaj, Highlander Law Group
"Alison K is able to explain SEO in a way that actually makes sense and gives great resource materials so that you can take actionable steps right away."
- Corinne Boudreau
"Alison K connected the dots so now I understand SEO much better than I did, especially for writing on my blog. Now I have context for all the disconnected bits about SEO I've been reading over the years!"
- Linda
"Very informative workshop! I came away with some great takeaways that I can immediately put to action and/or will in the future :)"
- Katie
Meet your instructor, Alison K!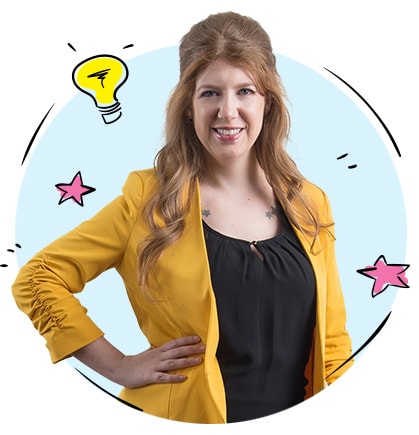 Known as everyone's favourite hyperactive nerd, Alison K (Knott) is a Halifax-based web consultant, instructor, and international public speaker. Since 2012, she's been raising web literacy for small business owners and nonprofits on stages across Canada and the UK.
Now she's bringing her high-octane blend of fun and functional training to your Zoom screen.
SEO is her specialty, but it comes dovetailed along with her experience in sales, marketing, data, design and code.
Is she a "unicorn"? Nah. Alison K is a sorceress that rides unicorns. Heavy metal plays in the background while she levels up your SEO game.
Alison K has been featured in...