Learn the REAL secret to getting that coveted page 1 spot on Google & the customers you crave
In this Link Building Strategy Workshop, leapfrog over your competitors and grow brand awareness exponentially!
Have you been creating top-notch, SEO optimized content...but your site is still hearing crickets?
First, let's congratulate you on all the hard work you've put into SEO'ing the heck out of your site!
You did your research and created stellar content you know dream customers will gobble up. You optimized your images. Updated your headings. Did everything in your power to get that 'friggin Yoast SEO light to go green.
You've put in the work that is leagues above your competition or peers. And yet, it's been months, maybe even a YEAR, and after everything there's still not much to show for it. A few trickling page views but no REAL ROI.
What the heck?!? Why isn't it working?
WELL— there's this often overlooked piece of the SEO puzzle. Even though it's the least technical aspect (and the most fun, in my opinion), everyone forgets that...
Your website needs the clout of other sites to win the attention of Google (just like in real life)
Before you buy a product or a service, you look at reviews, right? You might even ask a friend about their experience to get an idea if you should buy or not.
That's how search engines feel about your website, too!
Google wants to see that your website is *linked* with big websites that show your content is relevant and amazing.
If you don't have other sites confirming your content is great... Google won't prioritize it when your dream customers come searching for information.
Fact: There's only 10 lily pad spots on Google's first page, and it's reserved for those froggies with the right kind of clout.
So... are you ready to leap towards page 1 with me?
I'm Alison K, and my workshop will teach you the right way to build links (and lasting brand relationships) that will slingshot your content from 'unknown' to 'household'.
In just 90-minutes, craft a link building strategy that will make your website IRRESISTIBLE to Google!
Here's what you'll get out of my jam-packed Link Building Strategy Workshop…
An accessible way to understand which links are good, and which can dash your SEO dreams
A step-by-step strategy you can implement immediately after the session
The key to applying SEO tactics for larger brand awareness and growth
PLUS: You'll get an easy-to-implement workbook, & access to slides and the session recording for future use.
You deserve to have droves of dream customers and clients flocking to your site
This workshop is perfect for website owners who already have their content optimized, and are looking for the next step. But it's also great for new-on-the-scene companies looking to make a big splash online as soon as possible.
So stop fussing with content that's already optimized. Time to be the big frog in your pond. Ribbit!
Join me in a proactive, fun, jargon-free environment where I'll teach everything you need for a backlink strategy worthy of the amazing content you've created.
Next Session Date: Wednesday, September 15th
Time: 10am-11:30am Atlantic ( 9am-10:30am Eastern).
Cost: $100+hst.

Here's what other attendees say about my SEO workshops:
"Got a lot out of today's SEO workshop. It was an effective use because I walked away with a few concrete steps I can easily take myself to improve my website's visibility on Google."
- Dianna Rievaj, Highlander Law Group
"Alison K is able to explain SEO in a way that actually makes sense and gives great resource materials so that you can take actionable steps right away."
- Corinne Boudreau
"Alison K connected the dots so now I understand SEO much better than I did, especially for writing on my blog. Now I have context for all the disconnected bits about SEO I've been reading over the years!"
- Linda
"Very informative workshop! I came away with some great takeaways that I can immediately put to action and/or will in the future :)"
- Katie
There's just one TEENY catch...
I've only got 8 spots available.
Why?
Well, this is a live workshop where we go through the strategy workbook in real time. You'll receive direct feedback straight from me, your lovable-nerd SEO coach Alison K.
Plus, you'll learn valuable insights from the other 7 participants at the same time. Talk about a powerful, intimate session!
For SEO strategies like this, agencies usually charge hundreds if not thousands of dollars.
So, you're going to want to make sure to grab your seat before they're all gone!
Your frequently asked questions... answered!
You betcha! No pre-recorded webinars here. Or me lecturing you about things you could have Googled yourself.
It's a workshop that encourages attendee participation... we come together to focus on what matters for YOUR website, after all.
If you're already familiar with the basics of SEO and have already optimized your content somewhat, this is the perfect session.
It works for both established websites and new-on-the-scene.
This session addresses how to get other sites to link to yours. Through a variety of methods wrapped up in a streamlined process.
This is the least technical workshop in my series, btw! Simply come prepared ready to dive into what makes your content unique and who your dream audience is.
Sketchy backlinking tactics. Yuk.
But in all seriousness, if you're new to SEO, I recommend taking my SEO Basics Workshop first.
This session is specific to backlinking, so we won't be covering  how to optimize your site or perform keyword research.
Who the heck is Alison K, and why is she playing leapfrog?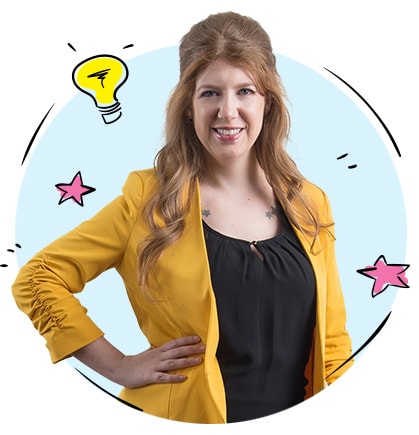 Known as everyone's favourite hyperactive nerd, Alison K (Knott) is a Halifax-based web consultant, instructor, and international public speaker. Since 2012, she's been raising web literacy for small business owners and nonprofits on stages across Canada and the UK.
Now she's bringing her high-octane blend of fun and functional training to your Zoom screen.
SEO is her specialty, but it comes dovetailed along with her experience in sales, marketing, data, design and code.
Is she a "unicorn"? Nah. Alison K is a sorceress that rides unicorns. Heavy metal plays in the background while she levels up your SEO game.
If this all sounds silly… but you're actually kinda excited… this is -exactly- the workshop you need to be in.
Next Session Date: Wednesday, September 15th
Time: 10am-11:30am Atlantic ( 9am-10:30am Eastern).
Cost: $100+hst.