THIS is how every small business owner can get more customers, clients & leads!
My effective SEO Basics Workshop will teach you how to leverage Google to make more sales.
Want more customers to visit your website... but know nothing about creating SEO content?
Yep. You've heard of Search Engine Optimization. Probably read a few blogs, and maybe even watched a few webinars.
You even have been trying to write blog posts.
But you're frustrated and confused.
Because no matter what you do, you just can't seem to get on Google's good side.
Your website isn't showing up on Google and bringing you the onslaught of customers you were promised by Underdog4371 on YouTube and you don't get it.
WELL—I've got the secret sauce that most small business owners have no idea about.
The problem is...you just don't understand this little guy.
I've watched sooo many clients pour time and effort into writing content for their website only for it to be ignored.
"It's not you, it's us!" the search bot cries. I just... I just have to understand things in a certain way."
I'm Alison K, and in just 90-minutes I'm going to teach you to speak the mystifying SEO language of the search bot with your website content. Bleep. Blorp.
On-page SEO is allll about formatting your content in a way that search engines understand.
In just 90-minutes you're going to learn to create content that Google LOVES
Here's what you'll get out of my jam-packed 90-minute SEO Basics Workshop…
Powerfully uncover the best way to write blog content that ranks, even if you're new to SEO.
Seize the attention of long-time customers by understanding the language of search engine bots
Discover the secrets of creating on-page SEO content yourself.
PLUS--You'll get an easy-to-implement PDF checklist & access to slides that will be available for future use.
If you're serious about getting free clients, customers, and leads for your business then this workshop will change the game for you.
This mini-but-mighty workshop will help you bring in FREE leads, customers & clients for years to come.
Get ready to laugh and sigh in delight.
This workshop is a fantastic start for anyone interested in SEO but has felt overwhelmed by the process.
No more pining for organic traffic and wishing Google would fall in love with your content. Bleep. Blorp. Blorp.
Join me in a proactive, fun, jargon-free environment where I'll teach you everything you need to know to SEO-the heck out of your content.
Cost: $100+hst.

Here's what other attendees say about my SEO workshops:
"Got a lot out of today's SEO workshop. It was an effective use because I walked away with a few concrete steps I can easily take myself to improve my website's visibility on Google."
- Dianna Rievaj, Highlander Law Group
"Alison K's SEO Basics Workshop was very helpful. Over the last year, as a small business owner, I have learned quite a few basics about SEO but Alison brought it home for me. She filled all the understanding gaps that I was missing when creating my website as aesthetics and information was my main focus. I am excited to implement all the recommendations from her going forward!"
- Marie-Helene Ryder
"Alison's workshop is absolutely unique and full of energy, it's built in such a way that people can get the most out of it. A workshop that will be worth the time, and she will make sure to provide the best for anyone who is attending it! Apart from the workshop, Alison is someone whom you can reach out to for advice and she will genuinely support you! :)"
"This workshop is great to understand how to implement SEO best practices on different levels based on your expertise (or lack thereof)! I would highly recommend it to anyone who manages a website and who wants it to perform better."
"Alison brings great energy to her workshop. She gives concrete examples of what one can do to improve their site."
- Heather Perkins
"Alison K is able to explain SEO in a way that actually makes sense and gives great resource materials so that you can take actionable steps right away."
- Corinne Boudreau
"Alison K connected the dots so now I understand SEO much better than I did, especially for writing on my blog. Now I have context for all the disconnected bits about SEO I've been reading over the years!"
- Linda
"Very informative workshop! I came away with some great takeaways that I can immediately put to action and/or will in the future :)"
- Katie
There's just one TEENY catch...
I've only got 8 spots available
Why?
Well, I personally go through samples of EVERYONE'S content live inside the workshop.
You'll be receiving direct feedback straight from me, your lovable SEO guide Alison K. Plus, you'll learn valuable insights from the other participants at the same time. Talk about a powerful, intimate session!
For content audit services and training like this, agencies usually charge hundreds if not thousands of dollars.
So, you're going to want to make sure to grab your seat before they're all gone!
Your frequently asked questions... answered!
You betcha! No pre-recorded webinars here. I offer this workshop to 8 people at a time. Keeps things intimate and focused on what matters to YOUR website.
This also means you'll have other attendees' input on how they're interpreting your content. It's like extra user feedback baked right into the session!
This isn't technical at all, and designed specifically for SEO beginners. You should be comfortable editing textual content of your website to understand concepts taught.
Small business owners, non-profit marketing coordinators and copywriters will fit right in.
This is the starting point of your SEO journey. We only have 90 minutes so we focus on optimizing existing content. Keyword research, measuring SEO success or other tactics aren't covered in this session.
My other SEO workshop available is for Link Building Strategy. If you're more interested in building your brand name and ranking faster with Google, that one is for you.
Who the heck is Alison K, and why is she handing out tissues to search bots?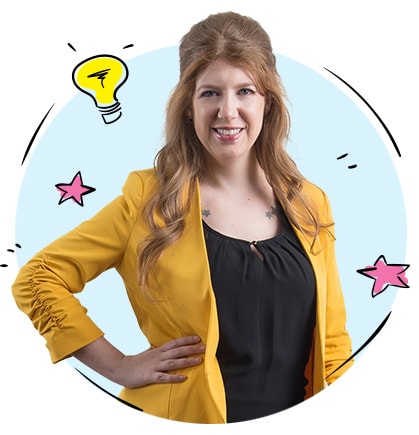 Known as everyone's favourite hyperactive nerd, Alison K (Knott) is a Halifax-based web consultant, instructor, and international public speaker. Since 2012, she's been raising web literacy for small business owners and nonprofits on stages across Canada and the UK.
Now she's bringing her high-octane blend of fun and functional training to your Zoom screen.
SEO is her specialty, but it comes dovetailed along with her experience in sales, marketing, data, design and code.
Is she a "unicorn"? Nah. Alison K is a sorceress that rides unicorns. Heavy metal plays in the background while she levels up your SEO game.
If this all sounds silly… but you're actually kinda excited… this is -exactly- the workshop you need to be in.
Cost: $100+hst.